Recently a New York City restaurant raised the question when management noticed an increase in negative customer reviews focused on slow service. The restaurant points the blame at patrons' smart phones. Management at the restaurant poured over dining room security footage from 2004 and this year. Their findings concluded that table times increased from just over an hour to nearly two hours. And the reason — customers devoting their time in the restaurant to tweeting, texting and Instagram.
An anonymous Craigslist post detailing the restaurant's situation went viral. The original Craigslist post was deleted but here's a screen shot of the claim: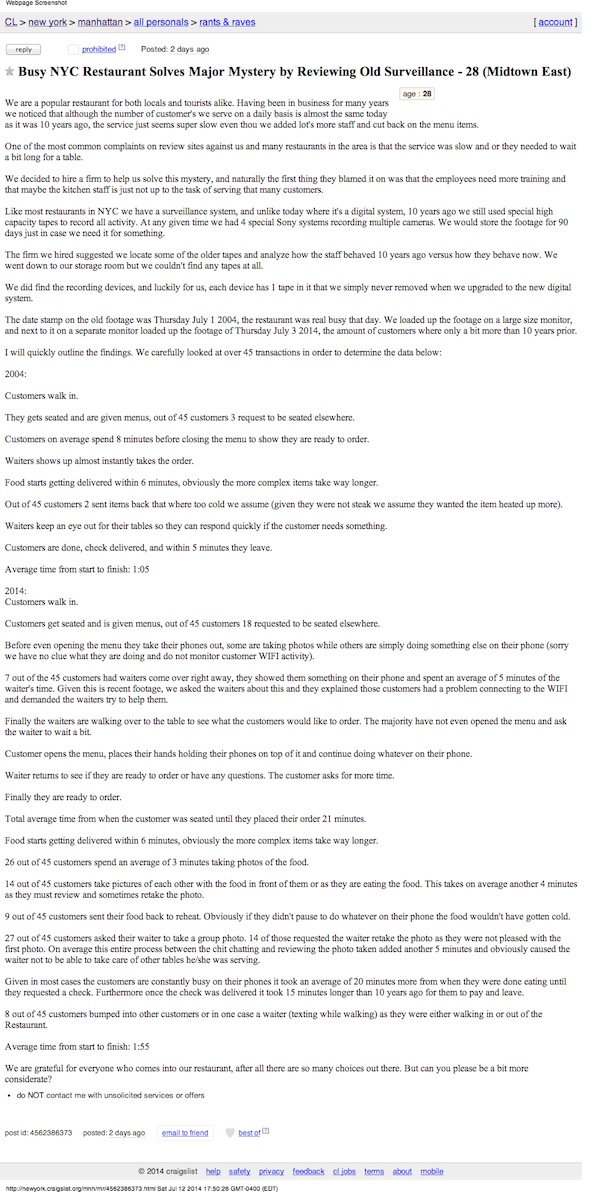 The claim has sparked many in the restaurant industry to respond to whether smart phones really cause slower service. Check out this USA Today article featuring restaurateurs discussing the impact of smart phones on service.
Smart phone have become more than a communications tool, they've become a way of life. We want to know what you think. Sound off in the comments. Do the positives of smart phones outweigh the negatives?
August 14, 2018 | Pizza Headlines
A dog-friendly patio is more than a checkbox I take my hound dog everywhere. At least once a week or so, you can find me and my Beagle having dinner at one of Louisville's dog-friendly patios. In fact, I keep a running list of the best patios with the best food and craft beer. After… Read More ›
---
August 9, 2018 | Videos
Watch our first episode of the Pizza & Pasta Northeast Update Show. Time to get excited about PPNE in Atlantic City October 3-4! Read More ›
---
New Port Richey, FL. – August 9, 2018 – Welbilt, Inc. (NYSE:WBT), announced today that Hubertus M. Mühlhäuser is resigning as a Director, President and CEO of Welbilt, effective August 31, 2018, to become the Chief Executive Officer and a Director of CNH Industrial N.V. (NYSE:CNHI), a $27 billion global manufacturer of capital goods comprising… Read More ›
---