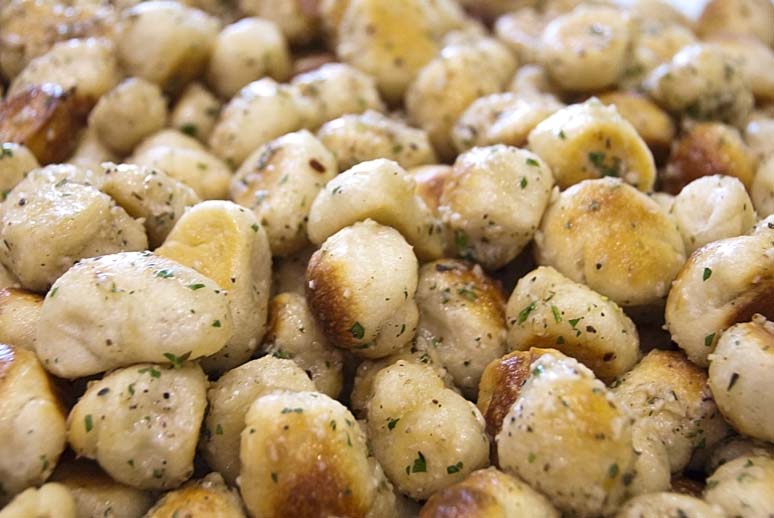 Are you making your own bread in-house? Everyone loves fresh, hot bread at the table but often pizzeria diners find themselves overly stuffed. If you lack the capacity or know-how, you can stretch your dough further on your menu. These can be made in advance and sold at the point-of-purchase or added as an appetizer offering.
This sounds more complicated than it is. Crumbled feta, sun-dried tomato, artichoke hearts and fresh basil should all be in-house already. You can make plain focaccia and then add ingredients for flavor.
These couldn't be easier. If I cut down a dough ball, they can easily be twisted into garlic knots. Brush with butter and sprinkle with Parmesan both before and after baking and sell with your marinara. Be certain to warm the marinara first –– there's nothing worse than hot garlic knots and ice-cold sauce. Try Cheesy Garlic Bread, too.
This couldn't be easier, and if it isn't on your menu you're missing out on a big money maker. Add shredded mozzarella to make cheese bread.
While not technically a bread, this is made with your pizza dough and is great sold as a POP purchase for the next morning. Serve with a side of royal icing (make sure you use a disposable lid!)
This appetizer couldn't be easier. The Parmesan cheese wedges are a great addition to salads as well.
If you'd like to learn more about the baking industry, the International Artisan Bakery Expo will be held congruent with International Pizza Expo at the Las Vegas Convention Center March 5-9, 2019. More information and the show's Web site will be released at a later date.
September 22, 2018 | Pizza Headlines
Conversations with three seminar and demo presenters: Tony Gemignani, owner of Tony's Pizza Napoletana and Pizza Rock; Nick Bogacz, owner of Caliente Pizza & Draft House; and Eric Shepherd, Director of Marketing & Communications for OTTO Pizza Pizza & Pasta Northeast will take over the Atlantic City Convention Center next month. The show is October 3 and 4 and… Read More ›
---
September 21, 2018 | Pizza Headlines
Educational program kicks off Pizza & Pasta Northeast before show floor opens We are a few weeks away from Pizza & Pasta Northeast in Atlantic City. It's time to start planning your schedule. The Exhibit Hall opens at 11 a.m. on both days of the show, Wednesday and Thursday, Oct. 3 – 4. But opportunities… Read More ›
---
September 19, 2018 | Videos
Josh Keown takes a look at the workshops offered on October 3rd and 4th at Pizza & Pasta Northeast. Read More ›
---