Sure, almost every pizzeria has a meat-loaded pizza with everything from pepperoni and sausage to bacon and ham. But, does your pizzeria have some creative protein-packed pies? Try five meat lover's pizzas that are sure to be hits with the carnivores who frequent your shop:
Italian Beef Pizza
This is a Chicago favorite. The meaty flavors with prepared giardiniera send this pizza to the top of the list. Get the Italian Beef Pizza recipe.
---
Super Beefy Mushroom Pizza
The ground beef and mushroom mixture on this pie is unique and flavorful. With three cheeses and a balsamic drizzle, the pizza doesn't need a sauce. But, you could go super comfy with an Alfredo base. Get the Super Beefy Mushroom Pizza.
---
Chicken Wing Pizza
Who doesn't love chicken wings? Now, take chicken wings to a whole new level adding them to the top of a pizza with hot sauce, mozzarella and Blue cheese. Get the Chicken Wing Pizza recipe.
---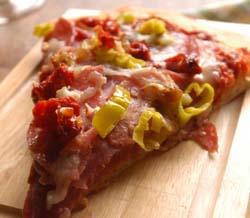 Yo Pauly
Beef up your pizza menu with gourmet Italian meats like capocollo. The Yo Pauly pairs capocollo and salami with sun dried tomatoes, pepperoncini and garlic. Get the Yo Pauly recipe.
---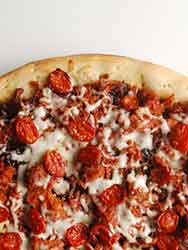 BBQ Pork Pizza
Slow-cooked pulled pork has its place atop pizza. Add roasted cherry tomatoes and caramelized onions and this pie will become a star attraction. Get the BBQ Pork Pizza recipe.
---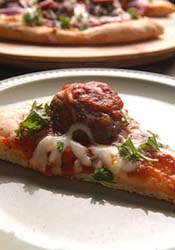 Italian Meatball Pizza
The ultimate carnivore's delight is the meatball. Split them in half and top a pizza with tomato sauce, mozzarella and Romano cheese. Get the basic meatball recipe.
---
For more pizza recipes, CLICK HERE.
August 9, 2018 | Videos
Watch our first episode of the Pizza & Pasta Northeast Update Show. Time to get excited about PPNE in Atlantic City October 3-4! Read More ›
---
New Port Richey, FL. – August 9, 2018 – Welbilt, Inc. (NYSE:WBT), announced today that Hubertus M. Mühlhäuser is resigning as a Director, President and CEO of Welbilt, effective August 31, 2018, to become the Chief Executive Officer and a Director of CNH Industrial N.V. (NYSE:CNHI), a $27 billion global manufacturer of capital goods comprising… Read More ›
---
August 7, 2018 | Pizza Headlines
Trade Association Business Publications International (TABPI) recently released its list of TABBIES winners. The TABBIES awards honor excellence in B2B publishing in several editorial and design categories. For the second straight year, Pizza Today won more awards than any other trade publication in the world — including a clean sweep of Gold in all three… Read More ›
---