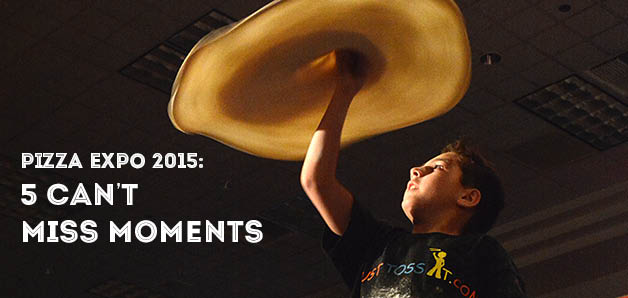 International Pizza Expo is finally here. Pizza Today is your guide to the largest pizza industry trade show. The exhibit hall is the size of six-and-a-half football fields and the educational program is packed with 95 business-boosting seminars, workshops and demonstrations. Pizza makers from across the world compete for top honors in the International Pizza Challenge and the World Pizza Games.
Amidst the whirlwind of the week's excitement, we've pulled together a sampling of Pizza Expo events you may have not thought to factor into your schedule. Check out five can't miss moments:
The International Pizza Challenge areas are the places to be Tuesday through Thursday to taste some of the world's best pizza. A Pizza Today insider's tip: After each pizza maker's pizza is judged, one is also sliced for spectators to try. Want to learn about the IPC Divisions, click here.
Beer & Bull Idea Exchange has a new format. The room has been reconfigured to accommodate free-form networking and topic-specific discussions on marketing, service, technology and employee issues at tables moderated by industry experts on the subjects. The popular session will have the same great craft beer and snacks as last year.
Pizza Expo Block Party (Wednesday at 5 p.m.) — Yes, party in a festival-style event with free food and drinks, live music and finals of the World Pizza Games' Freestyle Acrobatic Dough-tossing competition. You've never experienced dough acrobatics like this. The party gives the pizza industry a chance to unwind and get after the show floor closes and seminars have ended.
The Demonstration areas give you up-close instruction from top chefs. From Neapolitan-style and pan-style pizza to chicken-topped pizzas, desserts, breadsticks, wings and more, pizza makers will illustrate innovative tips.
Win money, and not by playing the odds! There are several opportunities to win both cash and prizes. The $20,000 MEGABUCKS Giveaway is handed out every year to one luck winner, but you've got to be present to win at the close of the show on Thursday. Each game piece must be stamped by participating exhibitors and be in the International Pizza Challenge area at 2 p.m. on March 26. Individual exhibiting booths will be holding additional giveaways, including mixers and POS software. Check out each booth to see what's available, and good luck!
July 16, 2018 | Videos
Editor-in-Chief Jeremy White discusses what wines to pair with pizzas, pastas and desserts. Read More ›
---
July 11, 2018 | Pizza Headlines
Based in Belgium, unique library is dedicated to cataloging and saving sourdough from all over the world It's a Monday morning on Bainbridge Island in Washington State. The spring sun is trying its best to break through stubborn Pacific Northwest storm clouds and, except for the sound of commuters making their way to the Seattle ferry,… Read More ›
---
July 10, 2018 | Pizza Headlines
Go inside the anti-plastic straw trend Starbucks is the latest company to announce that the coffee giant will eliminate single-use plastic straws in all of its stores by 2020. That adds up to the elimination of more than one billion plastic straws per year. In Starbucks' official release, President and CEO Kevin Johnson said, "For… Read More ›
---