Pizza & Pasta Restaurateurs With Great Stories to Tell
Keynotes
Tuesday, October 17
10 – 11 a.m.
Maria Papallardo
When you inherit one of New York's pioneer pizza names, the temptation might be to never change a thing. But A.J. Papallardo (now deceased) took the pizza recipe his father Giuseppe perfected to make Joe & Pat's a destination restaurant on Staten Island and expanded on it, opening Rubirosa Ristorante in 2010 in Manhattan's Nolita neighborhood. Since then, Rubirosa has drawn consistent praise for its pizza as well as its dishes featuring fresh-made pastas.
Maria Papallardo stepped in to run the family business after her brother A.J. passed away from a sudden illness in 2015.
She describes herself as a "pizza heiress" and "first generation Italian-American," but as the guiding force at Rubirosa she is pulling off the balancing act of appealing to both old and new neighborhood residents at the location near Little Italy.
Maria will tell the story of Rubirosa — and of her family's second-generation pizzeria and restaurant — during our opening-day keynote at Pizza & Pasta Northeast.
Wednesday, October 18
10 – 11 a.m.
The Pizza Masters: Sal Basille and Francis Garcia
Pizza makers, cousins and best friends, Francis Garcia and Sal Basille are two regular guys from the neighborhood whose DNA reads garlic and oil. They are fourth-generation restaurateurs who opened their first store on 14th Street in 2008. Since then, Artichoke Basille's Pizza has expanded to 11 locations, with more in the works.
Their first TV series, "Pizza Cuz," aired on the Cooking Channel and had them out on the road in a mouth-watering exploration of pizza across the country. They followed up with "Pizza Masters," another food-trek series with a huge sense of humor that is still airing on the Cooking Channel and Netflix.
During their keynote, Francis and Sal will share stories old and new. You can hear them immediately prior to the second-day opening of the Pizza & Pasta Northeast exhibit hall.
New Faces of the Pizza Pantheon Panel Discussion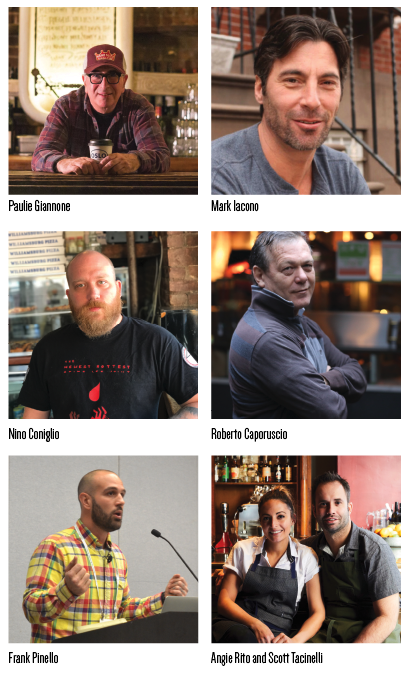 Moderated by Scott Wiener
Tuesday, October 17
5 – 6 p.m.
A new generation has emerged in New York, with one foot in the tradition established in the last century by the city's pizza pioneers and the other firmly planted in today's fast-paced and complex marketplace. Scott Wiener, the knowledgeable guide who operates Scott's Pizza Tours, will lead a discussion with three of New York's biggest current names — Paulie Gee (Paulie Gee's), Mark Iacono (Lucali) and Roberto Caporuscio (Kesté Pizza & Vino).
Networking Session to Follow
6 – 7 p.m.
After our panel of top New York pizzeria owners concludes its discussion, the floor will open for questions — and for attendees to mingle and start their own roundtable discussions. Food and drinks will be served, and you'll be able to exchange information with fellow pizza- and Italian-restaurant owners and managers.
August 14, 2018 | Pizza Headlines
A dog-friendly patio is more than a checkbox I take my hound dog everywhere. At least once a week or so, you can find me and my Beagle having dinner at one of Louisville's dog-friendly patios. In fact, I keep a running list of the best patios with the best food and craft beer. After… Read More ›
---
August 9, 2018 | Videos
Watch our first episode of the Pizza & Pasta Northeast Update Show. Time to get excited about PPNE in Atlantic City October 3-4! Read More ›
---
New Port Richey, FL. – August 9, 2018 – Welbilt, Inc. (NYSE:WBT), announced today that Hubertus M. Mühlhäuser is resigning as a Director, President and CEO of Welbilt, effective August 31, 2018, to become the Chief Executive Officer and a Director of CNH Industrial N.V. (NYSE:CNHI), a $27 billion global manufacturer of capital goods comprising… Read More ›
---