Focus as much energy on pre-opening events as you do a grand opening
Recently, I attended a preview event for a new fast-casual restaurant. I would like to say it was smooth sailing. Could a few hiccups cost the new spot dearly?
The restaurant did a great job inviting select markets to the events. There was an easy online signup. It allowed invitees to select from five to six time slots that were available and outlined what to expect at the event. I signed up, excited to try a new place. A free meal is also always good. I received a confirmation in my e-mail inbox and I was all set.
But, when I arrived, there was an empty dining room and a marketing manager at the front door handing out menus and apologizing that the day's event was cancelled. The reason is a cautionary learning opportunity for anyone opening a new restaurant. They forgot to factor in Labor Day. So the staff was behind a day on training and the product had not been delivered. Always look at not only your holiday calendar but also calendars of your city public works, district/neighborhood, area schools and community events. It could save you from the embarrassment of a cancellation.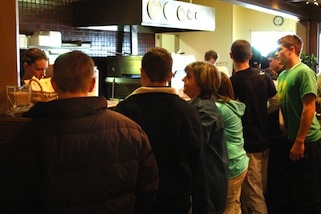 The marketing manager asked, "Didn't you receive an e-mail of the cancellation?" No. Standing in the vestibule, I quickly went to my e-mail on my iPhone, went to my spam folder and there it was. It was my mistake, or my e-mail filter's or perhaps even the marketing person who used spam words in the subject line of the e-mail. (Yes, there are several words in a subject line that can trigger an e-mail to go straight to Spam. Here's a list.)
The marketing manager was frustrated by the date mistake. But, she handled it well and offered me a reprieve a few days later. She even gave me her business card in case the new e-mail offer didn't come through.
The day finally came to try the new restaurant. Everything was organized and executed perfectly. A greeter met us at the door and walked us to a line where a waiting employee asked if we needed any help with the menu. The kitchen team was friendly and referred to their ingredient charts at their station. The line moved efficiently and quickly. Our order, even beverage, was logged into the POS system. Not tracking food consumed at a pre-open event is a mistake often made. It can give you key analytics on popular dishes. Several floaters monitored the dining area, walking people to open seats, clearing plates and getting feedback from guests on the dishes and overall customer experience.
Opening a new restaurant is always going to have a hiccup or two or 10. Don't be defined by the mistakes. Do what you can to correct them. Then, shake them off and continue your soft open plan.
September 22, 2018 | Pizza Headlines
Conversations with three seminar and demo presenters: Tony Gemignani, owner of Tony's Pizza Napoletana and Pizza Rock; Nick Bogacz, owner of Caliente Pizza & Draft House; and Eric Shepherd, Director of Marketing & Communications for OTTO Pizza Pizza & Pasta Northeast will take over the Atlantic City Convention Center next month. The show is October 3 and 4 and… Read More ›
---
September 21, 2018 | Pizza Headlines
Educational program kicks off Pizza & Pasta Northeast before show floor opens We are a few weeks away from Pizza & Pasta Northeast in Atlantic City. It's time to start planning your schedule. The Exhibit Hall opens at 11 a.m. on both days of the show, Wednesday and Thursday, Oct. 3 – 4. But opportunities… Read More ›
---
September 19, 2018 | Videos
Josh Keown takes a look at the workshops offered on October 3rd and 4th at Pizza & Pasta Northeast. Read More ›
---