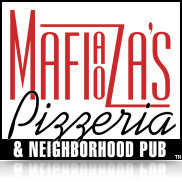 Nashville, TN—March 18, 2015— MAFIAoZA's Pizzeria and Neighborhood Pub announces the opening of its third location at The Factory in Franklin, TN.  The lease is effective immediately and the opening is anticipated to be in August 2015.
MAFIAoZA's Pizzeria and Neighborhood Pub Franklin will be the third MAFIAoZA's location for long-time partners Michael Dolan, Lars Kopperud and Brett Corrieri.  MAFIAoZA's has been a popular favorite on the dining scene since opening its doors in Nashville's 12South in 2003 and Birmingham's Crestline Village in 2008.
The new MAFIAoZA's Franklin location will be approximately 10,000 square feet and will feature a renovated upstairs roof patio and new downstairs patio that overlooks one of the Factory's courtyard areas.  The new space will also have new front courtyard patio area with renovated bars both upstairs and downstairs. In addition, plans are to renovate the existing space to add a new roof over the upstairs patio area.
A job fair date will be announced in the coming months as MAFIAoZA's will be adding approximately forty to fifty new jobs to the Franklin area including those for managers, kitchen staff, bartenders, servers and hosts.
Additional future plans include lunch, Sunday brunch, live music and local delivery service for a two-mile radius from the new MAFIAoZA's Franklin location.  Plans are to partner with a local Franklin catering company to expand their Barolo Catering operation in the Franklin area as well.
"We will stay true to our vision of creating a fun, family oriented, neighborhood atmosphere that offers great Italian food, and we are very excited to partner with the Factory in at Franklin on our third location and serve our existing and new customers in Williamson County," states Michael Dolan, MAFIAoZA's Co-Owner and Chief Manager.
Lars Kopperud, MAFIAoZA's Co-Owner and Operations Manager adds that "Our continued objective is to remain focused on and committed to  the quality of the food and great service and a professional staff for our customers who we see as family."
Executive Chef and co-owner, Brett Corrieri, has earned MAFIAoZA's a solid reputation for their commitment to presenting flavorful and memorable dining experiences for their loyal and still-growing patron base.
David Pack, acting General Manager of The Factory states "We are really excited about Mafiaoza's decision to expand their super successful brand into Franklin and onto our campus at The Factory.  Their artistic approach to food, emphasis on customer service, and commitment to community involvement create a great match for our recent and future cultural growth.  They are a visionary group of people who understand what 'good' looks like and how to create it.  This is going to be great."
ABOUT MAFIAoZA'S
For twelve years, MAFIAoZA's Pizzeria and Neighborhood Pub has wowed capacity crowds nightly with its authentic Italian menu, its impressive Old and New World wine list, and its comfortable, welcoming ambiance. The popular 1920s New York-style Italian restaurant is known for serving the finest stone-oven pizza in the southeast and offering dishes made with fresh, seasonal and local ingredients.
MAFIAoZA's is widely known for graciously catering to families, celebrities and business professionals as well as catering office parties, Holiday celebrations and singles' events.  The company is also known for its own charity events that raise money for the MAFIAoZA's "Godfather Fund", at the Community Foundation of Tennessee, that serves children.
The restaurant has been featured in such top-tier outlets as The New York Times, The Tennessean, Frommer's, The Birmingham News, Nashville City Paper, Chef Magazine and local radio and TV affiliates.
MAFIAoZA's awards and honors include the National Restaurant Association's (NRA) prestigious "Restaurant Neighbor Award" as the state winner for their community involvement, The Tennessean and Nashville Lifestyles Voter's Choice Award for Nashville's MAFIAoZA's # "Best Pizza," with additional nods for "Best Dining with Kids" and "Best of After-Work Bars" from Best of Citysearch and the Bronze "Retailer of the Year" awarded by the Alabama Retail Association (ARA) in cooperation with the University of Alabama at Birmingham School (UAB) of Business.
MAFIAoZA's has served over 1.1 million slices of pizza to date.  For more information, please visit www.mafiaozas.com.
August 14, 2018 | Pizza Headlines
A dog-friendly patio is more than a checkbox I take my hound dog everywhere. At least once a week or so, you can find me and my Beagle having dinner at one of Louisville's dog-friendly patios. In fact, I keep a running list of the best patios with the best food and craft beer. After… Read More ›
---
August 9, 2018 | Videos
Watch our first episode of the Pizza & Pasta Northeast Update Show. Time to get excited about PPNE in Atlantic City October 3-4! Read More ›
---
New Port Richey, FL. – August 9, 2018 – Welbilt, Inc. (NYSE:WBT), announced today that Hubertus M. Mühlhäuser is resigning as a Director, President and CEO of Welbilt, effective August 31, 2018, to become the Chief Executive Officer and a Director of CNH Industrial N.V. (NYSE:CNHI), a $27 billion global manufacturer of capital goods comprising… Read More ›
---