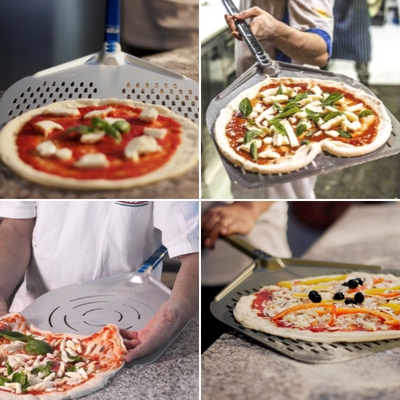 The aluminum pizza peels by Gi.Metal are designed for the professional pizzaiolo looking for lightness, functionality and long lasting.
What make them different from the wooden ones?
A good aluminum peel is better than a wooden pizza peel since it ensures a faster pace during work and thus a higher productivity.
– Long Lasting. Metal pizza peels don't need to be replaced every two months; professional peels can last up to two years thus being definitely worth the investment.
– Cleanliness. Metal peels can be cleaned better and faster, don't absorb residuals and prevent bacteria from spreading.
– Perforated pizza peels allow extra flour to be removed so that ovens stay clean, no smoke is given off and no bitter crust forms under pizzas.
Gi.Metal professional pizza peels, 100% Made in Italy, are available in 5 head sizes  (13"-14"-16"-18"-20") matching the line of pizza the chef likes best and in 5 handle sizes (12", 23½", 47", 59", 70") fitting the kind of oven and the working space at disposal.
What are the features of the perforated pizza peel?
The holes reduce the friction, the quantity of flour in excess and the weight of the tool.
The right flexibility of the peel and the frontal milling facilitate the scraper effect.
The central and lateral ribbings ensure a great resistance.

The three rivets in line guarantee a perfect junction, as the rivets used on the airplanes.
The handle in oval tubular guarantees a good taking, while the inside veining guarantees an extreme resistance.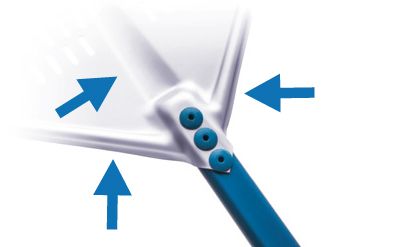 Everyone has got their own peel
For over 30 years, Gi.Metal has been manufacturing professional tools for hospitality industry: pizza peels, tools for pizza preparing, serving and delivering.
Across the years Gi.Metal has been designing 6 different lines to meet the needs and expectations of the pizzaiolos using these tools daily.
The peel with the Carbon fiber handle is the very lightest and high tech.
The peel Gold is precious as well  thanks to the special GHA treatment that conferes the same resistance as the stainless steel  to the aluminum as well as smoothness.
The Azzurra line is the most complete as it includes solid and perforated heads in different materials (aluminum, stainless steel,  easy slide) both for traditional and for over size pies, up to the peels for the Rome style, latest new of the last year.
The Neapolitan line shows a special perforation and strengthened material to suite the style napoletano. The America Line is suitable for the traditional heavy pies. Last but non least the Amica line is dedicated to residential, sporadic use keeping quality and functionality.
Have a look at "Guide to the choice of the peel " to choose the best GiMetal pizza peel matching your needs and visit our website [www.gimetalusa.com ] to discover all our products.
Gi.Metal USA INC
203 Commercial Drive – 60560 Yorkville, IL
Phone 630-553-9134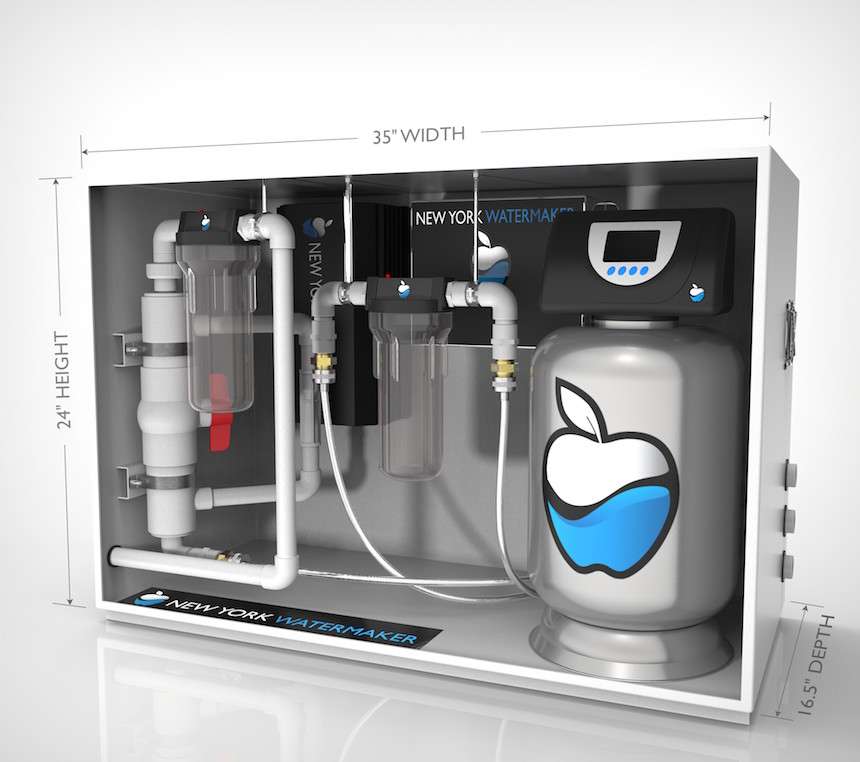 There's no place in the culinary world like New York City. From the famous and impossible to replicate, pizza... Read More ›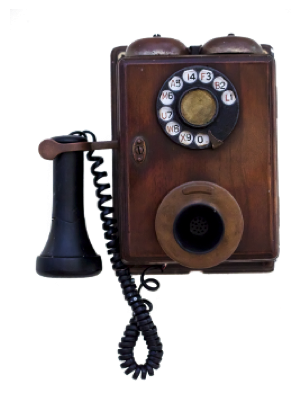 Customers with regular business phone lines from "legacy" carriers may still be paying as much as $90 per line,... Read More ›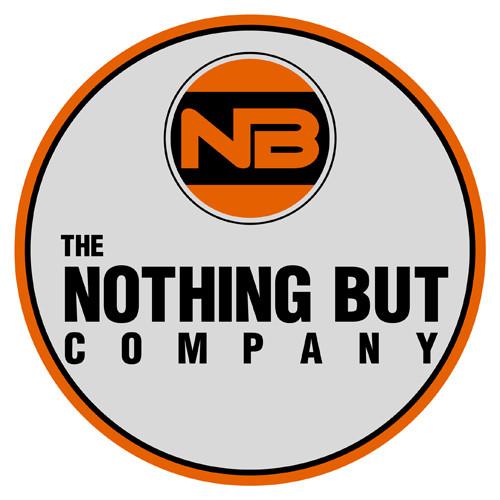 Arrow P22 and P35 Staplers and Staples Most Popular For Pizza Restaurants The Nothing But Company (www.nothing-but.store) proudly sells Arrow... Read More ›