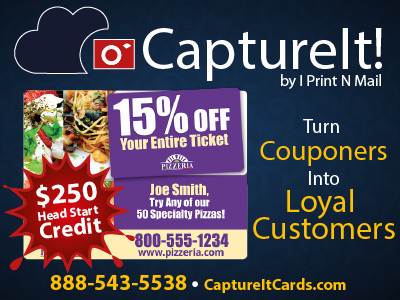 Boost your coupons' effectiveness with our can't-miss plastic postcard direct mailers! Then get your customers to come back again and again, check your exclusive special offers, using the same plastic card. Earn more, know your customers more, and grow more with our easy, systematic approach.  The best part? It's FREE, no strings attached.
Let's face it, pizza is a couponing business.  When someone decides to have pizza for dinner, they will look for a deal.  In fact, everyone's looking for a deal.  How do you stand above everyone else?
Introducing CaptureIt! Cards, these are basically plastic postcard mailers… and much more. On their own, our plastic postcard s already enjoy up to 30% redemption rates, much higher than regular direct mail. They look and feel different in your hand, definitely a "can't miss" item in your mailbox.
Traditionally, plastic postcards are mostly used to send coupons or gift cards (one-time redemptions only).   Only large enterprises can afford to use them as multi-use coupon/gift card/loyalty card, because they have invested a lot to integrate loyalty programs with their POS software.  Overall, they give excellent ROI, but their limited use and higher costs made them more of a niche product.
Now things have changed.  Plastic postcard production costs have dropped, and we also leverage today's cloud technology to give our clients an even bigger bang for their buck.  We will provide a FREE ROI & Loyalty app to help you track and engage with your customers, in what we call "Permission Marketing". No more spamming!
So, get them to think of you first before everyone else!  Instantly build a loyalty program… without spending a penny on expensive systems integrations.  Now small and medium-sized businesses can run alongside the big boys, and build for themselves their own comprehensive loyalty programs…. no more punch cards.
To recap:
Plastic postcards as single use coupons or gift cards already achieve up to 30 percent redemption rates, much higher than regular direct mail.
These translate to over 500 percent Return on Investment (ROI).
The ROI and Loyalty tracking app, and the reusability of CaptureIt! can triple or quadruple the ROI even more – that's 2000+ percent ROI! Hard to beat.
ABOUT US:
CaptureIt! Cards is a division of I PRINT N MAIL.  The company was founded in 2000, and is based in San Francisco, California.  Please call 888-543-5538 or visit captureitcards.com to schedule a personalized demo and receive free samples. Exclusive to Pizza Today readers, we are offering $250 "Head Start" credit for a limited time. Act now!

Social Media Bundles CCS Creative offers up a full course of foodservice marketing, and now's your chance to get... Read More ›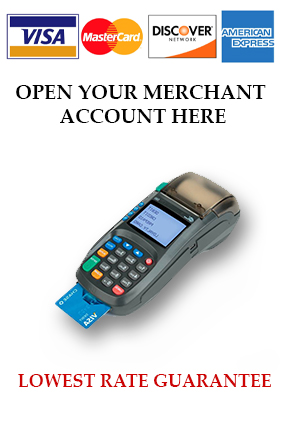 Michael Luchen the Director of Sales and Operations for OKMerchant Payment Solutions – a Card Connect Company Powered by... Read More ›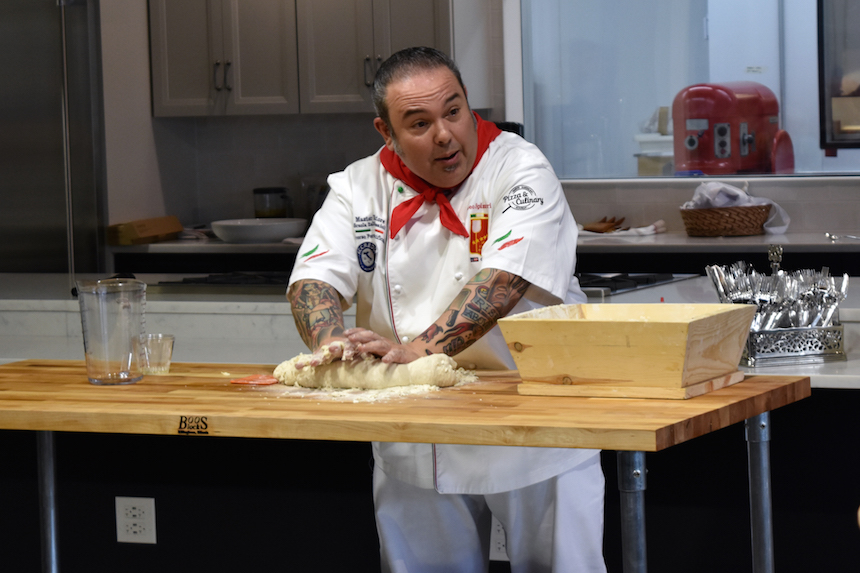 Lesaffre has announced the opening of a new one of a kind Pizza Innovation Center. This brand-new facility,... Read More ›