White pizza is often defined by what it lacks rather than what it offers. White pizza is devoid of tomato sauce, but not flavor. By omitting the bold, acidic base that most pizzas build on, the toppings take center stage with nuance, subtlety and complexity. In Rome, the pizza bianca exemplifies Italy's simple, exquisite cuisine with its dough brushed with olive oil, sprinkled with sea salt and finished with fresh rosemary. Other versions see dough topped with garlic and olive oil, then dolloped with fragrant, beautiful Italian cheeses. Perhaps wood-roasted wild mushrooms share space with those cheeses, or fennel sausage or sautéed spinach. And when they're pulled out of the oven, bubbling and crisp, white pizzas may be adorned with fresh basil and parsley, or perhaps cherry tomatoes and arugula. The white pizza is a showcase for premium ingredients, where operators fl aunt imported buffalo mozzarella or Prosciutto di Parma. Aficionados of white pizza, motivated by either food sensitivities or palate preferences, are passionate about these pies.
Il Ritrovo, a combination 50-seat Neapolitan pizzeria and Italian specialty store in Sheboygan, Wisconsin, offers three pizzas bianca on its menu. "A lot of people either don't like tomatoes or can't have them, and are thrilled to find the white pizza options," says Stefano Viglietti, owner. "White pizzas offer an entirely different flavor profile."
The restaurant's Bufalina Bianca features water-buffalo mozzarella, buffalo ricotta, smoked mozzarella and Parmesan. The dough is topped with the cheeses, baked and then finished with Prosciutto di Parma, fresh tomatoes, arugula and a drizzle of extra-virgin olive oil. "The buffalo cheeses have a fuller flavor with a nice grassy tone," he says. A 13-inch pie sells for $17.95 and runs a 40 percent food cost. "Our food cost is higher here than the average, but we can't spare the expense on the premium ingredients on this one," says Viglietti. Il Ritrovo is a member of the Verace Pizza Napoletana Association, an organization based in Naples entrusted with protecting the methods and ingredients used in making Pizza Napoletana.
"We also run a pizza bianca that really shows off the wonderful cheeses of Italy," he says. The Sette Formagi sees dough topped with a varying array of seven imported cheeses, such as fontina, Asiago, mozzarella, smoked mozzarella, mascarpone, Parmesan and Pecorino. "When people smell the Boscaiola Pizza being carried through the dining room to a table, they want to order it," says Viglietti. Dough is topped with smoked mozzarella, mozzarella, fresh rosemary, black-truffle cheese, pancetta and wood-fire roasted local shiitake, oyster and crimini mushrooms. "It's an aromatic pizza with deep, wonderful flavors," he says. A 13-inch pie sells for $16.95 and runs a 40-percent food cost.
"Our white pizzas cater to cheese lovers who don't want to deal with sauce," says Gene Bazzarelli, general manager of Franco's Metro Restaurant, Bar & Pizza in Fort Lee, New Jersey, who says it's important to use menu language that reminds guests that a white pizza has no tomato sauce. The Bianca Pizza features dough topped with shredded mozzarella and dabs of ricotta, along with sea salt and proprietary spices. "It's simple, and there's nothing on there that's going to overpower the delicate flavors," he says.
The other white pizza at this 95-seat shop, the 4 Cheese Pizza, is marketed as a specialty pie, and is served as a 10-inch personal pizza. The dough is brushed with olive oil (which helps bubble the crust), then topped with mozzarella, hard provolone, Parmesan and Asiago. Out of 17 specialty pizzas, it ranks number three behind only the Margherita Pizza and the Mozzarella Cheese Pizza. "You have to make sure the cheese is evenly dispersed on a white pizza because you don't have the sauce holding down the dough," says Bazzarelli.
Assad Hamad, owner of Alfredo's Italian Kitchen in South Boston, agrees that white pizzas require careful attention. "You can't let the white pizza cook for even one minute too long," he says. "If you do, it will burn because it has no sauce protecting it. But when you get it right, it's wonderful because it's fresh and delicious."
A popular pie at Alfredo's, which offers takeout, delivery and catering, is The Bianco. Dough is brushed with olive oil, then topped with mozzarella and dry feta cheese. Fresh garlic goes on next, followed by fresh spinach and tomato. A bit more feta and mozzarella, as well as a dusting of Parmesan, finishes the pie. A 16-inch pizza sells for $14.99 and runs a 40-percent food cost. "It's a great vegetarian option," says Hamad. "White pizza offers diners something different." ?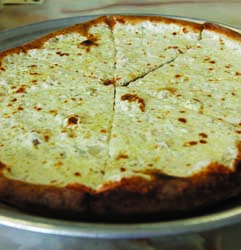 Pizza Bianco
2 teaspoons extra-virgin olive oil, divided
1 pound proprietary pizza dough
½ pound sweet Italian sausages, meat removed from the casings
2 cups shredded mozzarella, divided
1 cup whole-milk ricotta
2 tablespoons finely chopped flat-leaf parsley
Salt and pepper, to taste
1 pound pizza dough, at room temperature
2 tablespoons freshly grated Asiago
Heat 1 teaspoon of the olive oil in a large skillet. Add sausage to the skillet and cook until browned and cooked through, 5 to 6 minutes. Using a slotted spoon, transfer the sausage to paper towels and crumble it into small pieces. Let cool slightly, then transfer to a bowl and toss with half of the mozzarella. In a bowl, combine the ricotta with 1 tablespoon of the parsley; season with salt and pepper. Spoon the ricotta mixture all over the dough, leaving a 1-inch border of dough. Brush the border with the remaining olive oil. Scatter the sausage over the ricotta; top with the remaining mozzarella and Asiago cheese. Bake until crust is golden, being careful not to burn. Garnish with parsley; serve.
Katie Ayoub is a frequent contributor to Pizza Today. She lives in Toronto, Ontario.