Still just a bit player in the nation's overall pizza scene, fast casual pizza players are poised to become an industry force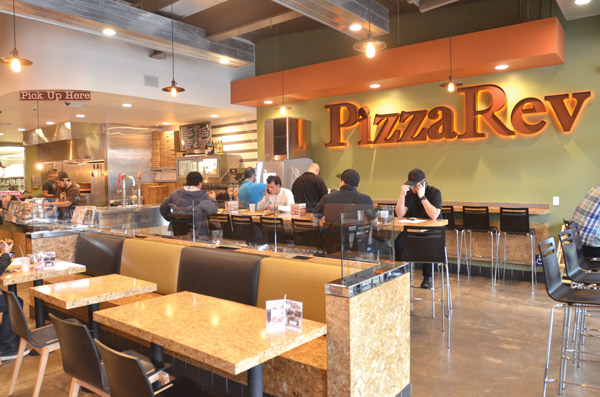 Standing on the back deck of his Atlanta home in 2008, Matt Andrew had an epiphany.
Readying for his next entrepreneurial adventure after successfully launching the Moe's Southwest Grill chain, Andrew questioned why pizza, one of the world's most beloved and consumed foods, had yet to be "fast casualized."
"Why couldn't you stand in front of the pizza maker and get a pizza with fresh ingredients built to order?" Andrew wondered.
Energized by the possibilities, Andrew built a culinary team, opened a test kitchen and began laying the groundwork for his new pizza concept. In January 2009, the first Uncle Maddio's Pizza Joint opened near Emory University in Atlanta.
Today, Uncle Maddio's, some 50 units strong with an additional 20 openings on the docket by year's end, is just one of the many fast casual, build-your-own-pizza concepts flooding the nation's strip malls and Main Streets, joining the likes of other ambitous players like Pieology, Blaze Pizza, MOD Pizza, PizzaRev, Pizza Studio and Pie Five Pizza Co.
"It's like finding gold," Andrew says of the fast casual pizza category.
Just a half-decade ago, fast casual pizza barely registered on the nation's restaurant radar. Many of the now-swelling concepts were either in their infancy or had yet to be conceived.
In 2016, however, fast-casual pizza is as hot as the ovens pushing out its pies in minutes.
According to Technomic's 2016 Pizza Consumer Trend Report, fast-casual pizza sales are growing at a near 12-percent clip, more than four times that of the traditional quick-service pizza category. And in Pieology, Blaze and MOD, the fast-casual pizza category claims three of the nation's five fastest-growing chains.
With units opening on a near daily basis, the fast-casual pizza category has launched pizza into a new stratosphere, revolutionizing service and delivery models and seizing the nation's attention.
"Consumers want fast casual and they love pizza, so it was only a matter of time before these two came together," says Deanna Jordan, manager of consumer insights at Technomic.
About six years ago, then-Pizza Inn CEO Charlie Morrison saw the need for faster pizzas, more options and more occasions and he challenged his team to consider the future of pizza.
After working alongside Turbo Chef to develop an oven that could cook pizzas in 145 seconds, Pie Five was born.
"The equipment piece was critical and can't be understated," Pie Five vice president of marketing Christina Coy says.
But plenty more sparked the fast casual pizza category's now-soaring growth characterized by the likes of Pie Five. There was the recession, which heightened consumers' focus on value and ignited the ascent of fast casuals, concepts that gleefully touted higher-quality fare in a more engaging atmosphere without the taxes of time and tip.
There was also surging consumer interest in customization, something that had always been at play in pizza, though not on an individual level. The fast casual process allowed all guests to have it their way, vanquishing the idea of multiple individuals sharing a 16-inch pie.
There was the increasing push toward healthier dining and fresh, artisanal ingredients, which compelled many of the early fast casual players to champion their product as a lighter, healthier alternative to traditional pan pizza.
And there was, to be certain, the novelty of a modern slant to a beloved old favorite.
All of it has fueled the fast casual pizza boom.
Consumers continue filling the upstart eateries, particularly during the lunch hours, a daypart in which pizza has historically struggled to make deep inroads with its lunch buffets and by-the-slice offerings. The build-your-own pie concepts have delivered pizza to the lunch table and answered consumers' desires for fast and fresh.
"New pizza eaters aren't being invented, but we are offering choice that allows us to cast a wider net," says Andrew, adding that lunch and dinner represent an even 50/50 split at Uncle Maddio's.
Many of the major fast casual players offer personal pizzas, often 8-11.5 inches in size, made from an assortment of crust options and then topped with a handful of sauces and dozens of fresh ingredients, including lively offerings like the caramelized onions, sun-dried tomatoes and artichoke hearts found at Pie Five. The diversity of ingredients, which range from gluten free to vegan at many of these concepts, also appeal to guests with different dietary needs and desires.
The personalization, speed of service, execution and, quite frankly, the value proposition appeals to pizza-loving consumers, Pieology founder Carl Chang says.
"People are embracing the flexibility of customizing without the financial burden typically associated with pizza customization," he says.
Franchisees and financial backers, meanwhile, have leaped onto the bandwagon, further accelerating the category's growth.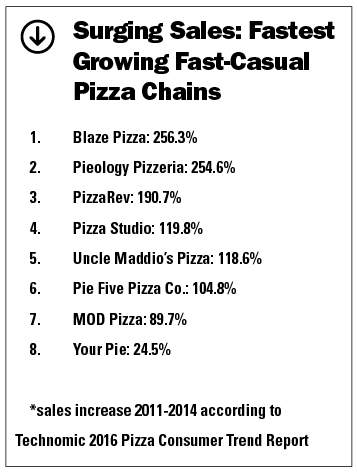 Earlier this year, Andrew and Peggy Cherng, founders of the Panda Restaurant Group, the California-based powerhouse behind the 1,800-unit Panda Express chain, made a strategic investment in Pieology; Chipotle has backed Pizzeria Locale since 2011; Buffalo Wild Wings invested in PizzaRev in 2013; and Rick and Elise Wetzel of Wetzel's Pretzels fame sparked Blaze Pizza's founding.
The infusion of cash and, ultimately, franchisees are feeding the category's momentum. Last year, Pieology became the first fast casual, build-your-own pizza chain to enter Technomic's annual top 500 chain restaurant report and was also named the nation's fastest growing restaurant chain. At Pieology and others, double-digit sales and unit growth rates are the norm, not the exception, Jordan says.
"It's too early to have the conversation of a concept like Blaze or Pieology overtaking someone like Domino's, but it's easy to see these fast casuals capturing a larger pizza share," Jordan says.
For now, fast casuals still remain a minor player in the $45 billion pizza category, accounting for little more than one percent of the more than 29,000 pizza chains in the U.S., according to Technomic.
That will undoubtedly change.
By 2019, the Telsey Advisory Group predicts there could be as many as 2,000 fast casual pizza joints in the U.S. — and it's not hard to see how.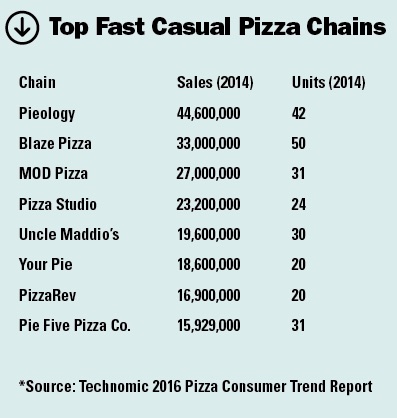 California-based Pieology currently boasts nearly 100 units across 12 states and Chang believes his concept can hit 1,200-1,500 units. Andrew pegs Uncle Maddio's ceiling — at least domestically — at 1,500 units as well. "The opportunity is big and wide," Andrew says, adding that the international potential is also massive given pizza's global acceptance.
Technomic's Jordan foresees some of the smaller chains growing and soon landing on the Technomic 500. The rapid evolution, she adds, will demand traditional pizza chains respond with innovations in delivery, takeout and menu development.
"The more traditional pizza players are going to have to fight even harder to keep their share," Jordan says.
Five years down the road, Coy predicts there will be two to three mainstream national players while others blanket specific regions or markets alongside one-off independents. "Everybody is still tinkering and evolving, but fast casual pizza is going to grow," Coy says.
For Andrew, among the elder statesmen in the category with his seven-year-old Uncle Maddio's chain, the competition is as energizing as it is daunting.
"Hey, it's a big nation out there," he says, "and I believe there's lots of room in the marketplace for great brands."
Game on.
Chicago-based writer Daniel P. Smith  has covered business issues and best practices for a variety of trade publications, newspapers, and magazines.